Emile Allais has devoted his life to skiing: ski champion, instructor, ski patrol, ski resorts creator…
He passed away last October at the age of 100, taking with him many memories of a time when there was still so much to develop in the mountains.
I paid tribute to him by creating this poster inspired by a photo of him in his thirties.
He's the instructor n°1, and I'm the n°15342! The "family" has grown since. Thank you Mr. Emile Allais!
The poster creative process is explained here:
The photographs, the inspiration's base
Pencil drawing.
This step is one of the most important. The pencil gives us the liberty of shape where the computer is holding us back. I am unable to draw directly on the photo with the pen in Illustrator. Or just to make silhouettes. To work on shadows and reflections, pencil on paper is easier to use.
Vectorization
I use Illustrator to vectorized the drawing.
Font
To choose the right font, my wish was to respect the 1940's style (year of the photographs).
Layout
The text have to be organized around the illustration trying different colors. During this creative process, it is important to detach ourself from the creation for a few hours or days to come back with a fresher look. This is the only way to judge if the poster is balanced or not.

Texture and shadows
Once the layout and the colors chosen, I return to Photoshop to add a bit of texture and depth to the poster. I like authentic things. Printing in the 40s was not as precise as now, and to transcribe it, I added some "noise" and soft shadows.
With hindsight, I also decided to change the font at the top which I found a bit too cold.
And here is the final result : Voilà !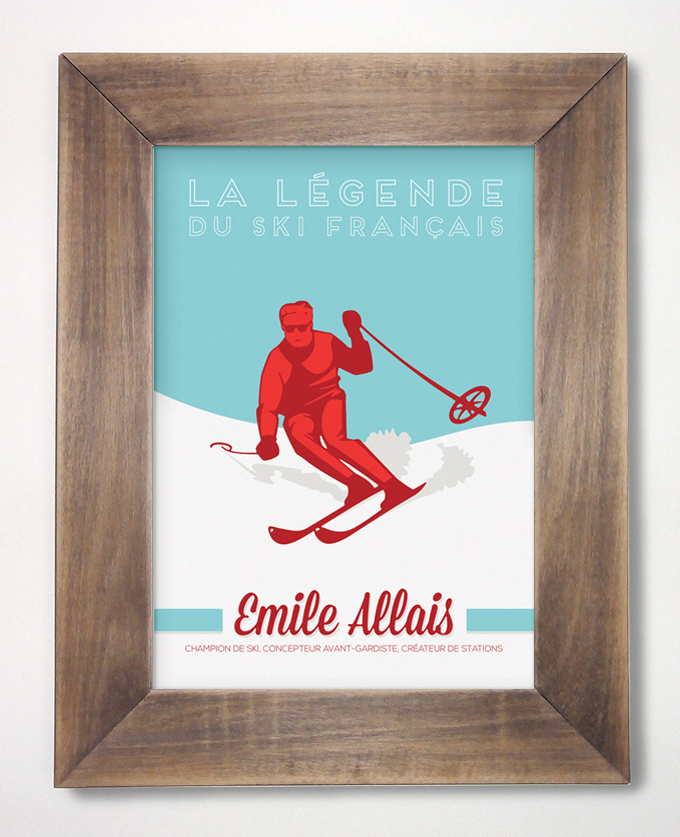 Do you like it?
I'd be happy to hear from your point of view concerning the colors and layout. Any criticism is positive !
To get it :
This poster is available for sale in the ETSY shop in A4 and A3 format.
[button url="http://cosyneve.com/product/poster-emile-allais/" style="orange" size="small" sc_id="sc1402664380767″] Click here to visit the shop [/button]
Thanks for your visit : )